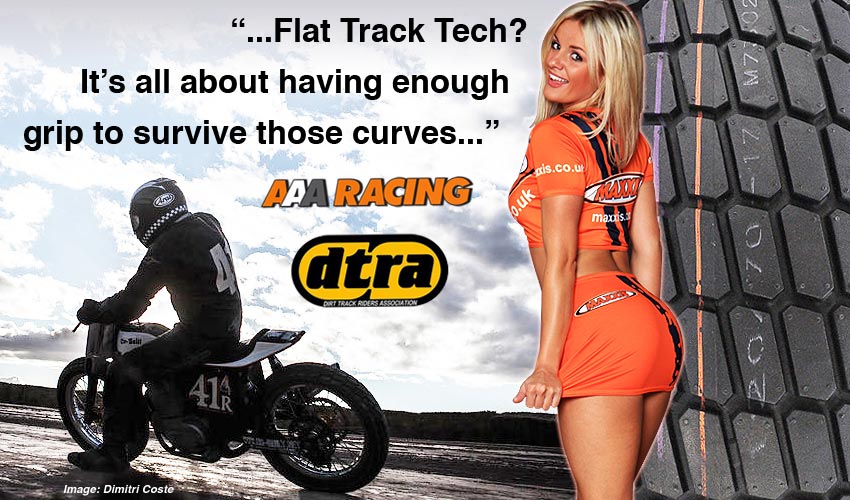 Here is some useful technical data for all the 19" Flat Track Tyres, that we distribute
Regardless of the specific tyre you choose, on each tyre's specific detail page, there are 4 tabs; Description, Specification, Rotation Image and Fitted Image. The Specification tab shows all the useful data for that specific tyre, including its road legal usage (if or where applicable) and the correct recommended rim size, together with all the other appropriate data for the tyre's usage
As Maxxis DTR1 exclusive distributors in the UK & EIRE, we provide a lot of useful information about these tyres, shown within various different sections on the page below. We only have limited Dunlop DT3 information, because we provide these tyres, mainly as part of our continuing support for the DTRA and their UK Flat Track Racing Championship. The limited Dunlop DT3 information is shown at the bottom of this page
If you need advice on engine tuning, race-craft or marriage (!) there are far better people out there who can help you!
Maxxis DTR1 - Rim Sizes?

The main problem for most UK riders, is that when converting a MotoX or Enduro bike to a Flat Track race bike (using the Maxxis specified standard rim sizes fitted with DTR1s) is that the resultant wheel / tyre combination won't actually fit on their bike. They are quite simply too wide! The DTR1 is a wide tyre because 'genuine' Flat Track bikes feature wider triple clamps and swing arms than all of these conversions

Consequently and ignoring the official Maxxis rim size specifications for a moment, the most popular rim sizes (for these types of MotoX or Enduro bike conversions) are 2.15" (WM3) front and 2.5" (WM4) rear. Yes... We know this doesn't really make sense, but it works! We have actually seen DTR1 front tyres, fitted onto wheels using 1.85" (WM2) rims, but that was a little bit borderline... Finally, thanks to wheel building deals and other incentives, a few UK riders are successfully using the same size rims (2.15" normally, but 2.5" as well sometimes) on both front and rear wheels
Maxxis DTR1 - Rim Sizes / Resultant Tyre Widths?

A very popular question! Remembering that there are variables (e.g. wheel manufacturer's specific rim design, different inflation pressures etc) shown below, are approximate DTR1 tyre width measurements, when fitted to popular UK rim sizes and inflated to 1.379 Bar (20 PSI) These may be useful when you're at the design and build stage of your Flat Track Project

Front DTR1 Tyre: 130/80 x 19 (27.0-7.0 x 19)
Rim: 1.85" (WM2) Tyre: 119.1 mm (4-11/16")
Rim: 2.15" (WM3) Tyre: 128.6 mm (5-1/16")
Rim: 2.50" (WM4) Tyre: 131.8 mm (5-3/16")

Rear DTR1 Tyre: 140/80 x 19 (27.5-7.5 x 19)
Rim: 2.15" (WM3) Tyre: 141.3mm (5-9/16")
Rim: 2.50" (WM4) Tyre: 144.5 mm (5-11/16")
Rim: 2.75" (WM4.5) Tyre: 146.1mm (5-3/4")
Rim: 3.00" (WM5) Tyre: 147.7mm (5-13/16")

These approximate tyre width measurements are in addition to the two Maxxis official 'section width' measurements, which are shown on the image at the bottom of this page (NB: When fitted to the two specified rim sizes (WM5 & WM6) that are also clearly shown in the same image)
Maxxis DTR1 Tyres - Tubeless or Tubed Tyres?

All the Maxxis DTR1 Tyres that we supply are Tubed Tyres (TT). Inner tubes are always required when using Maxxis DTR1 Tyres regardless of the specific type of motorcycle wheel they may be fitted too. We don't sell inner tubes, simply because they have always been cheaply and readily available elsewhere. Technically speaking, the specific rim width being used and therefore the resultant tyre width, could be a factor when choosing inner tubes. However, MotoX or Enduro 19" inner tubes, usually multisize inner tube types that include 3.50 x 19 and 4.10 x 19 sizes or their metric equivalents, have always been the most popular choice by our UK customers & our sponsored riders (that race Flat Track in the UK) use these inner tubes too
Maxxis DTR1 Tyres - Swap Fronts And Rears?

Using a 130/80 x 19 (27.0-7.0 x 19) front DTR1 and a 140/80 x 19 (27.7-7.5 x 19) rear DTR1 is the sensible way to go for the true Flat Track 'image' and the right 'feel' when riding. However, it's easily possible to run two Front DTR1's OR two Rear DTR1's on the same bike (subject to careful rim size selection) if space is tight or, if you're looking for a 'Fat Bike' type image. We have seen this frequently, on both race and customised road bikes...
Maxxis DTR1 - Which Compound For Road Bikes?

All the Flat Track tyres we stock and their different compounds, are primarily designed for racing. However, you can still sucessfully use either compound for road use, based on; where you live, mileage requirements, temperatures and local road construction plus the specific bike you intend using them on. Our own normal advice is to always use matched pairs if you can i.e. CD5 both front and rear or CD3 both front and rear. The usual road-use tyre wear ratio rules are applicable; 'two rears to one front' and so far, it's the CD5 compound that is proving the most popular for road bikes
Maxxis DTR1 - Road Legal Status?

All Maxxis DTR1 tyres supplied by us are 100% ECE Road Legal as clearly shown within the Specification Tab for each tyre (example DTR1 CD3 Front Tyre Specification Tab can be seen here) You will find the ECE-R75 Mark on the sidewall of every DTR1 tyre we supply. You can ignore any 'For Racing Use Only' type wording that may be shown on some stickers that come with any new DTR1 tyres supplied by us. Those stickers are generic and are only relevent to Non-ECE tyre rule countries (e.g. USA). The tyre's sidewall marking is the true indicator
Maxxis DTR1 - Racing Tyre Cuts?

The images below show some of the types of tyre cuts that can be used, to get the best performance on UK Flat Track race tracks (which are normally speedway tracks). Cuts for tyres for use on some European Flat Track race tracks may be quite different than shown here and cuts (if any) for tyres used on Flat Track race tracks in the USA, will definitely be different!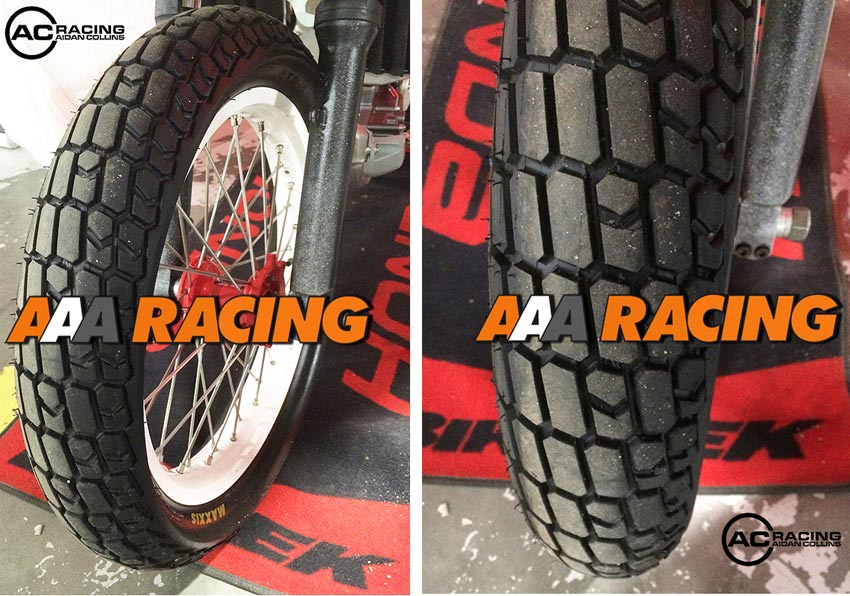 Above are examples of front tyre centre and side blocks cuts (just on one side) made using a normal tyre cutter...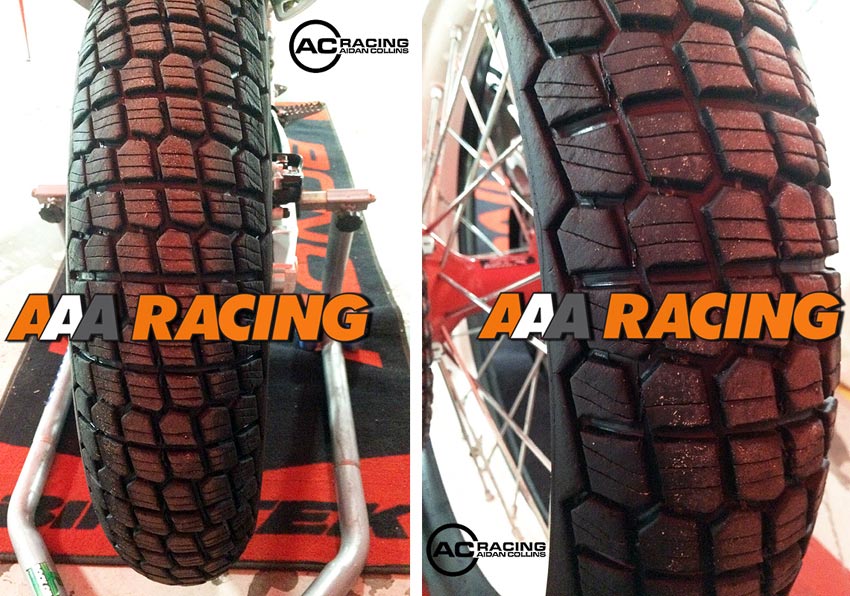 Above are examples of centre and side block cuts on both sides of the rear tyre. As well as the normal block cuts, you can see additional very fine cuts, which are also directional (if you look closely!) These detailed cuts were made using a normal tyre cutter, a stanley knife and lots of patience...

At real Flat Track race meetings, there's far less time, but Maxxis DTR1s can still be cut, either when taken off the bike or whilst still on it!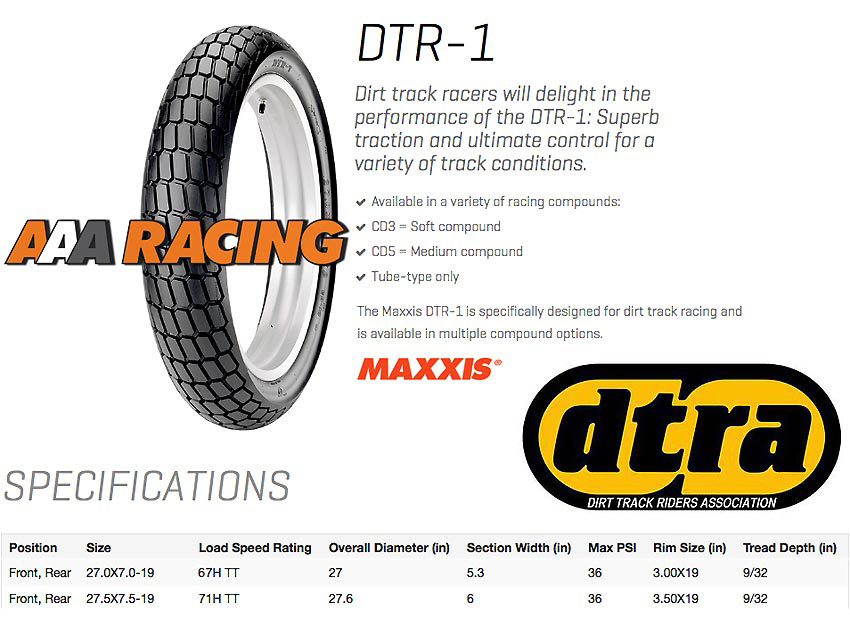 Remember the Description, Specification, Rotation Image and Fitted Image tabs are shown on the detail page of all the Flat Track Tyres that we sell
Dunlop DT3 - Road Legal Status?

All Dunlop DT3 tyres supplied by us are NOT currently Road Legal. This is clearly shown for each tyre, within the Specification tab on its Detail page
Dunlop DT3 - Rim Sizes?

The official Dunlop recommendation for each tyre, is clearly shown within the Specification tab on its Detail page. However some additional size information direct from Dunlop is as follows:
Front DT3 Tyre: 130/80 x 19 - 2.25" Minimum recommended width
Rear DT3 Tyre: 140/80 x 19 - 2.75" Minimum recommended width

Dunlop DT3 - Recommended Inflation Pressures?

The recommendation pressures from Dunlop are as follows:
1/4 Mile Track: 0.85 - 1.00 Bar
1/2 Mile Track: 1.10 - 1.65 Bar
1 Mile Track: 1.50 - 1.90 Bar

Dunlop DT3 Tyres - Tubeless or Tubed Tyres?

All the Dunlop DT3 Tyres that we supply are Tubed Tyres (TT)
Dunlop DT3 - Racing Tyre Cuts?

You can make your own cuts on any of the Dunlop DT3 tyres supplied by us (see some example cuts shown on Maxxis DTR1 tyres above) but you should always check that the rules of the event you're going to race at, do permit these types of tyre modifications well in advance